Weight:
10 gr
,
Volume:
10 ml
Expert - this is an alternative program of revival of the skin. Innovative products will solve the problem without the help of plastic surgery and without salon procedures.
Formula drugs and techniques for home use are based on the methods of aesthetic medicine and plastic surgery. Operational principle of a series of Expert - to solve the problem quickly, efficiently, safely and reliably, without complications, without side effects, without resorting to radical methods.
Around the eyes is where the first signs of aging and tired skin appear: wrinkles, puffiness, dark circles under the eyes, redness of the eyelid skin. These problems will be solved by the three-roll gel by reducing swelling and dark circles under the eyes.


Properties
Massage head with three rollers gently massage the delicate eyelid skin, stimulating microcirculation and lymphatic drainage.
Instantly cools, tones and revitalizes the skin around the eyes.
With regular use, eliminates swelling eyelids, reduces dark circles under the eyes.
Relieves tired eyes when working at the computer.
Softens, moisturizes and strengthens the skin of the eyelid.
Clinical studies
The results of the use of funds after 8 weeks of use:
the intensity of dark circles under the eyes is reduced by 35%;
puffiness under the eyes is reduced by 31%;
thin skin around the eyes is strengthened by 42% *
* Image courtesy laboratories Pentapharm (Switzerland) and Nikko Chemicals (Japan).
Shelf life: 18 months from date of manufacture printed on the package.
Shelf life after opening: 8 months.
Declaration of conformity: TC RU D-RU.AI82.V.00298
Made for Faberlic JSC, 4 Nikopolskaya str., Moscow, Russia
Country of Origin: Russian Federation
Regu®-Age is a clinically tested complex of plant extracts with yeast proteins, soy and rice peptides. It improves microcirculation, significantly reduces dark circles, promotes the synthesis of collagen and prevents the appearance of fine lines. Infused with the unique antioxidant, it fights free radicals and protects skin from oxidation.

Botanical complex consisting of horse chestnut, centella asiatica and licorice root extracts relieves skin irritation, reduces puffiness, rejuvenates and tonifies skin, making it supple and elastic with less pigment spots and wrinkles.
Novaftem-O2™ is an oxygen-based complex that increases the oxygen content in skin, intensifies the effect produced by all active ingredients, and improves peripheral blood circulation.
Contains: aqua, butylene glycol, saccharide isomerate, sodium hyaluronate, glycine soja (soybean) protein, caffeine, hydrolyzed rice bran protein, centella asiatica extract, aesculus hippocastanum (horse chesnut) extract, oxido reductases, dipotassium glycyrrizinate, panthenol, glycerin, perfluorodecalin, arginine, sodium dextran sulfate, peg-40 hydrogenated castor oil, perfluoropolymethylisopropyl ether, xanthan gum, carbomer, poloxamer 188, phenoxyethanol, methylparaben, butylparaben, propylparaben, fragrance, disodium edta.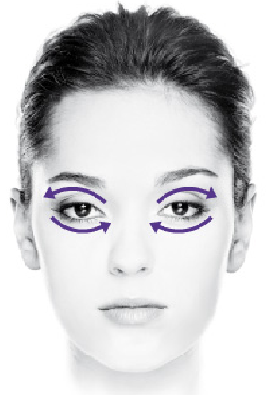 Apply gel in a circular motion around the eyes, massage rollers for a minute, massaging gently.
Three-roll gel can be used several times during the day, when your eyes feel tired after a hard day or sleepless night.
User
Recommendation

(709203542)


Novikova Anna Sergeevna

Минск

19.05.2019


На счёт кругов не могу сказать. А вот отёки снимает отлично. Матушку на огороде укусила мошка, глаз заплыл, помазала, с одного раза опухоль начала спадать. Мне самой глазам легче, после работы использую, кожа более увлажненная, мягкая, хорошо и быстро впитывается.

(709761514)


Kavalenko Irina Sergeevna

Аксукент

09.04.2019


Эффективный. Моментально убирает мелкие морщинки вокруг глаз. Сначала незаметно, но если подождать и внимательно смотреть, - правда.

(707134754)


Zhuravleva Natal'Ya Vladimirovna

Донецк

27.03.2019


Работает, но очень маленький, за такую цену это дорого, к сожалению.

(703120862)


Shambatueva Valentina Nikolaevna

Варна

22.03.2019


У меня прям проблема, тёмные круги вокруг глаз, так он справился с кругами!

(711166516)


Hedlund Natal'Ya Sergeevna

Москва

21.02.2019


Шикарный гель! Купила маме, взяла у нее попробовать и сразу же заказала себе, охлаждает, тонизирует, разглаживает кожу, уменьшает отеки.

(708929604)


Korol'Kova Nadezhda Viktorovna

Гродно

30.12.2018


Отличный помощник с утра, когда глаза "подпухшие". Снимает отечность в течение нескольких минут. Супер!

(700775122)


Azarova Ekaterina Sergeevna

Москва

21.10.2018


Ролик "заставляет глаз смотреть шире". Подходит для чувствительной кожи.

(711250182)


Vereschagina Margarita Alekseevna

Тамбов

06.09.2018


Реально помогает от синяков. Неплохо.

(710457656)


Sazanova Dinara Tufhatovna

Краснокамск

15.08.2018


Хорошая вещь! Действительно, снимает отечность и темные круги под глазами! Всем своим коллегам порекомендовала... Все довольны остались!

(711279898)


Novikova Irina Nikolaevna

Химки

24.07.2018


Три-ролл гель просто шикарный!!! Взяла, так как вечная проблема под глазами. Я не верила, что он поможет, но сейчас нахожусь просто шоке (в хорошем смысле). Реально помогает, синяки становятся меньше, и отёчность уходит. Если поверх этого геля нанести консилер, будет просто прекрасно, хотя и так очень хорошо. Всем рекомендую.

(2808981)


Mel'Nik Anna Pavlovna

Мосты

07.03.2018


Очень довольна, рекомендую! Применяю при ушибах у детей. Синяки даже не появляются, если помазать сразу, и часа через два совсем ничего нет. Всё проходит и не болит.

(706042631)


Ovchinnikova Ol'Ga

Москва

07.12.2017


У меня чувствительная кожа, и если наносить геля много, то он плохо впитывается, но я помогаю себе подушечками пальцев, тогда эффект очень заметен, особенно, когда не выспалась - кожа светлеет, отеков с кругами не видно. Пользуюсь и очень довольна

(708394949)


Erzyankina Anastasiya Pavlovna

Петропавловск-Камчатский

23.11.2017


Заказываю второй раз. Утром помогает "раскрыть" глаза, убирает отечность. Это хорошее и эффективное средство, так как результат виден с первого раза.

(708960289)


Kondrashova Natal'Ya Vladimirovna

Благовещенск

08.09.2017


Шикарное средство! В восторге каждое утро, когда вижу результат после нанесения! После недели пользования синяков под глазами нет и отечность намного меньше! Раньше пользовалась дорогой маркой и не было такого результата! Спасибо, Фаберлик!

(706206510)


Yaroslavtzeva Ol'Ga

Ейск

09.08.2017


Супер средство! Наношу периодически, особенно утром при припухлости век или после усталости глаз в течение дня. Моментально снимает отечность и чувство усталости с глаз.
Results 1 - 15 of 59