A new way to cleanse! The Biomica series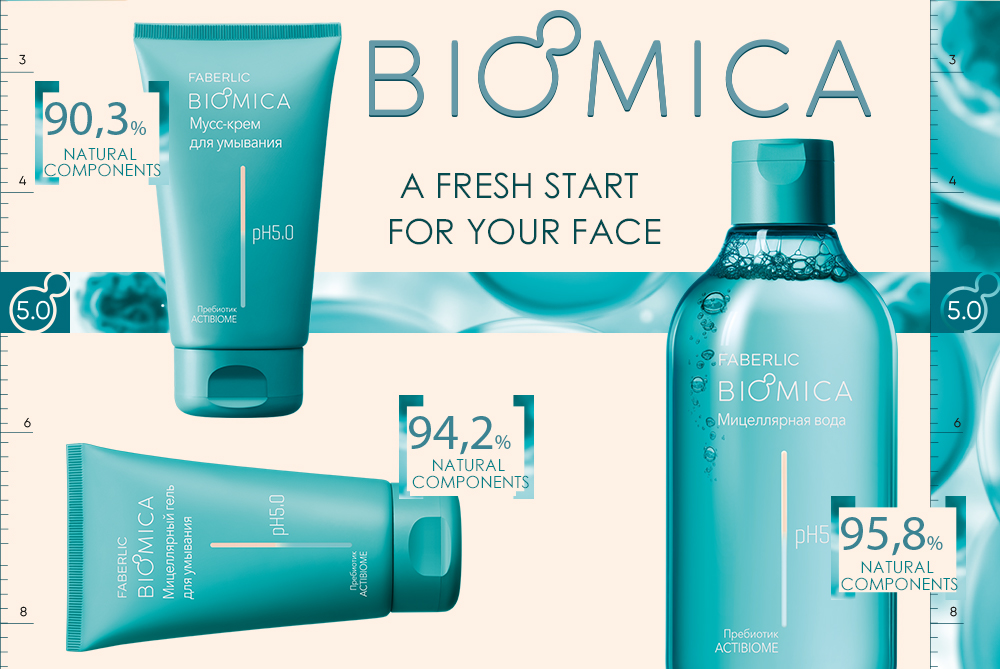 Microorganisms protect your skin from invading infections and keep your immune system in top shape. For the first time in the Faberlic catalogue, we present the new Biomica cleansing line for microbiome balance!
Cleansing products from the Biomica series contain ACTIBIOME prebiotic, which is rich in amino acids and microelements. Products from this series are suitable for any skin type, including sensitive, and maintain a pH of 5.0, which is optimal for the growth of healthy bacteria! Free of parabens, ethanol, SPS, soaps, and dyes.
Micellar Cleansing Gel (1239) cleanses your skin gently but effectively. Suitable for daily makeup removal.
Cleansing Mousse Cream (1240) is designed specifically for skin that is sensitive and prone to dryness. The product has a light, creamy texture. Use it for daily cleansing and makeup removal.
Micellar Water (1244) delicately cleanses your face, eyelids and lips. Removes makeup, dust, and excess skin oil, and maintains a healthy acidity level on your skin's surface.